With the rapid development of China's economy, foreign direct investment in China has continued to rise in line with economic growth, reaching nearly USD 120 billionin 2015. While it's tempting to invest in China, there might be barriers and headaches to manage your business, especially when you want to free yourself from accounting administration activities and focus on growing your business. With cloud accounting software, your financial advisor and you can access your business data on a real-time basis, making it easier for you to stay focused on what matters most.
1. Making virtual CFO service feasible 
In order to run your business well in China, it's significant that you have a qualified CFO who is fluent in English, has an in depth understanding of China business compliance and tax systems, and is able to help you better manage the internal control process. In China, it's especially hard to find the CFO who can meet all the above requirements within the budget for small businesses. However, cloud technology opens up new and profitable opportunities for business owners. With cloud accounting software, it's viable to hire an experienced and knowledgeable virtual CFO with the cost of a fraction of a full-time CFO who cannot normally be afforded by small businesses. Cloud accounting software enables the business and the financial advisor to share real-time data, making the virtual CFO service feasible and possible. With the virtual CFO, small businesses can keep their financial goals clearly in sight.
2. Easy to access your business data
As an expatriate business owner, you might not be able to stay at a specific location for long; you will either travel intensively around for business, like visiting clients, other entities or reporting to headquarter in other locations or travel for pleasure, like going back home or going on vacation. It's important that you can still view the business data and keep an eye on the business operation while you are away from your office. The beauty of cloud accounting software is that it enables you to access your data and work anywhere, anytime. You can use a laptop, tablet or even smartphone, making your time more flexible and valuable. Thus, you are able to really enjoy the process of managing your business.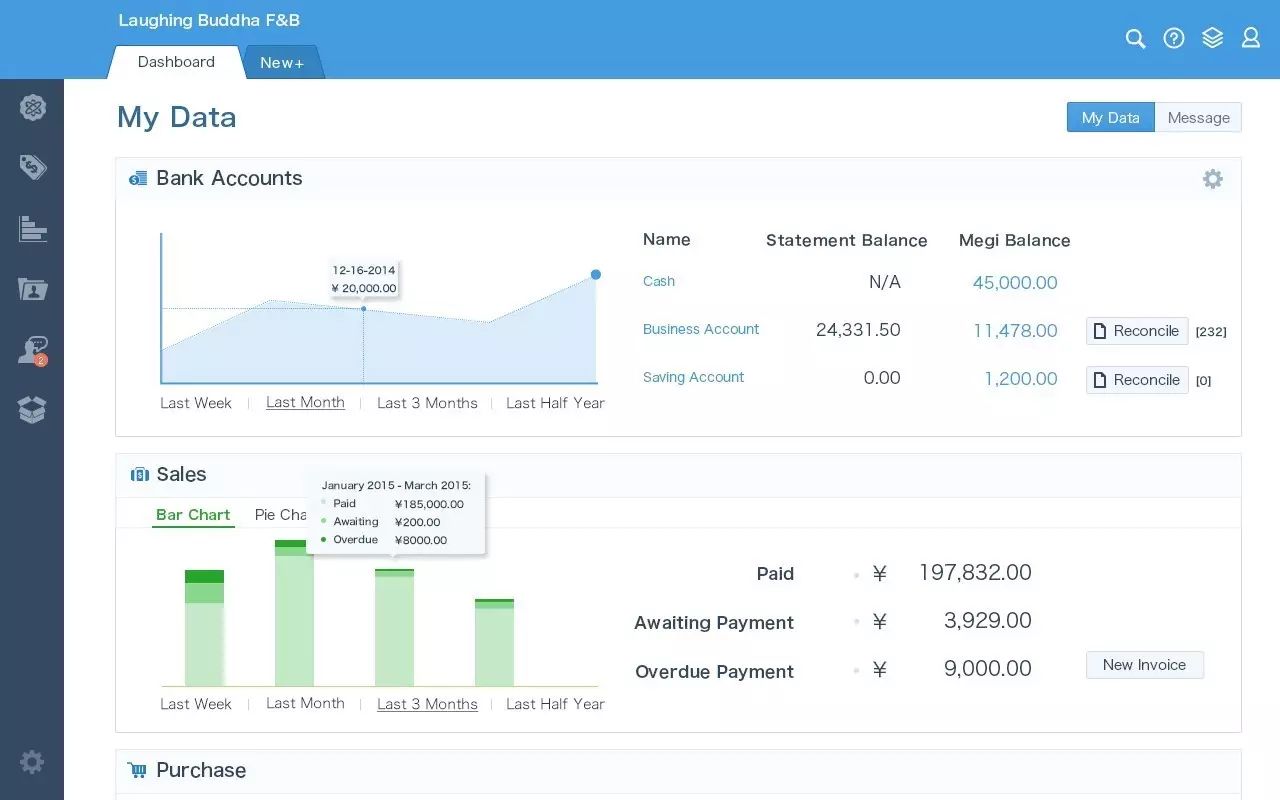 3. Easy to use 
Traditionally, accounting software is designed for accountants who have in depth understanding of accounting practice; therefore, it's hard for any other non-accounting personnel to understand the logic behind it. However, cloud accounting software brought a new aspect into the traditional accounting field. It's accounting software as well as a business management tool. Normally in China it's hard to find highly skilled staff who is able to use complicated ERP software like SAP, Oracle without a series of long time training. However, cloud accounting software is different. Besides the accountants, all other staff is able to use it without much training even if they have never used any online ERP or accounting software before. Sales, purchases, and expense claims are all easily and clearly recorded in the system, making business process transparent and simple. Thus, the business owner is able to have a general view of the corporate operation and financial status, as well as implement and regulate internal control.
4. Easy to manage Fapiao
Businesses are always the party that receives, issues Fapiao, and tracks the physical input and output Fapiao while the accountant is the one who is in charge of bookkeeping. When the Fapiao needs to be transferred from the business to the accountant for bookkeeping, they need to go through emails and phone calls to make sure they have the same information. With cloud accounting software, every piece of information is transparent and up-to-date, the business and the accountant are able to compare the actual Fapiao and the information online tomake sure everything is accurate, making it easy for you to truly partner with your accountant. In the future, when Fapiao can be imported into the cloud accounting software directly from tax bureau, it's easier to monitor input Fapiao receiving and output Fapiao issuing, making the business owner relieved from Fapiao headaches.
5. Making work process more efficient
Cloud accounting software can reduce costs and improve operations by servicing users more efficiently. The cloud frees up staff from mundane, day-to-day activities,enabling them to spend more time on improving operational efficiency and effectiveness. Traditionally it always takes a lot of time for staff in different departments or entities to communicate with each other. Business proposals, expense claims or other process that need to go back and forth to answer queries and provide supporting documentation will take weeks or even months to be settled. With easy-access cloud accounting software, everyone can view the up-to-date data, making communication less time consuming. Approvals can be done within a few hours or days even if the managers are not in the same location as the staff, helping move the process forward faster and helping the staff stay focused on what's more important.
There is a lot to think about while running a business in China. Whenyou choose the right accounting software, you can avoid the problems and take actions when it matters. If you are having fun with your accounting software,you will be excited to manage your business. Thus, you will be much better in tune with your financial situation and see a better opportunity to grow.